DUMB ALERT: "Our email performance is down because we are sending too much" – WRONG!!!
Your email performance is down because you are doing lots of things wrong and you are boring.
By sending less you will generate even less overall engagement and eventually the recipient will forget who you are, you will get fewer customers and you might as well close up shop. Little harsh?
But seriously…send out relevant stuff and people will get excited about every email you send.
Let's assume now that you have compelling content and interesting offers so we can go over the optimal way to drive response…
OFFER RELATED EMAIL SENDING:
Offer Related Email Messages Sent 5xs vs. 1x Generate a 150% Increase in Total Clicks.
Example Sending Schedule: [FOR BOTH B2B AND B2C]

I KNOW WHAT YOU ARE THINKING…
But I will get unsubscribes! Terrible things will happen!
Relax…You might get a few more unsubscribes. Big deal. Those people were NEVER going to buy from you again. AND, the ironic part is that because you are sending more and generating more clicks than normal, it will help your engagement metrics and could even HELP you to STAY in the inbox. So, it's a WIN-WIN! [even if you don't do a 5x send for every offer you should consider at least one extra send beyond what you are currently doing – it works!]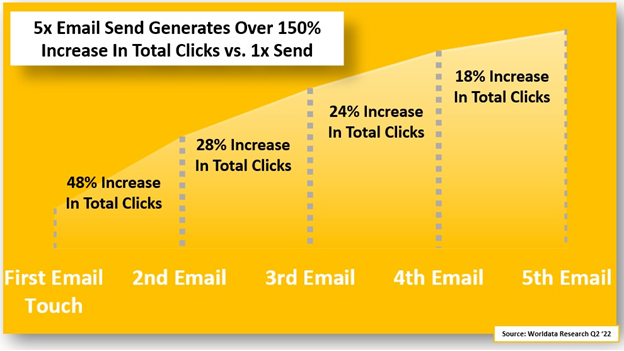 AVOID THIS HUGE MARKETING MISTAKE…
What is it??? Oh no!! It's nothing. I just wanted you to read this next stat…
Negative Outcome Subject Lines Increase Email Open Rates:
Business: 31%
Consumer: 34%
EXAMPLES: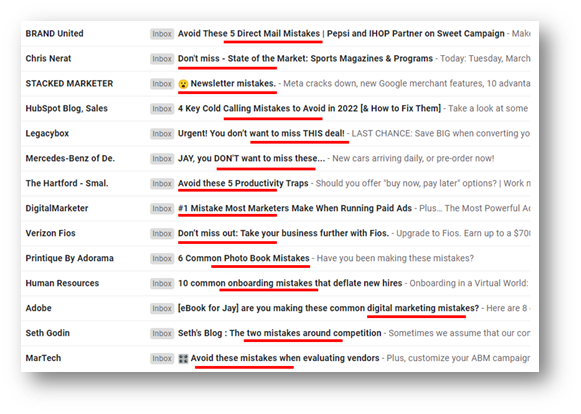 Since You Didn't Ask...
For any new readers of 'Scoop' this is where I share stuff that has nothing to do with anything that is actually helpful or useful...
MY BIRTHDAY:
I am a moron. I canceled 2 of my credit cards this past week because I saw weird charges on my accounts that made no sense. I told my wife. She said I ruined the surprise. Birthday is off to a great start.
EATING:
Salmon is a great thing to eat when you are hungry and want to stay that way.
YouTube:
If YouTube didn't exist everything in my house would be broken.
OSCARS:
Didn't see it this year. Did anything happen?
DO YOU HAVE INSOMNIA???
I told my career journey on this really cool podcast called 'Marketing Ladder' – If you can't sleep and want to know my bizarre career path….Here you go –
https://open.spotify.com/episode/6sPfL5XHTpgYPnn5K6ihmq?si=da6242fff4e64051&nd=1
I AM DOING AN EMAIL TIPS WEBINAR: Free Reg Link:
https://www.linkedin.com/video/event/urn:li:ugcPost:6910628555261362177/
Do you know about GURU Conference:
Hey! Have you registered for the FREE VIRTUAL email conference my team is putting on???
Here is the link if you haven't – www.GuruConference.com – We are gonna run out of spots. Hope you make it!
BTW – How are you? Shoot me a note and loop me in on how your marketing is going and how things are overall.
Best,
Jay
p.s. pass along to a friend if you think they may want to sign-up....www.JaySchwedelson.com
Are we connected on LinkedIn??? https://www.linkedin.com/in/schwedelson/

AND – PAST ISSUES OF SCOOP ARE NOW LIVE AT jayschwedelson.com/Scoops
If you do not want to receive these emails, please click here.