BOOOORING ALERT: This section looks boring and is boring.
The REAL iOS 15 Update… (NEW INFO – Not same old stuff)
At this point everyone knows that Apple messed up tracking open rates and your marketing automation streams are probably pretty different these days. (if this makes no sense please google 'iOS 15 Impact on Email Marketing')…
Ok, here is what you should and should not do related to all of this….
DON'T Stop Tracking Open Rates:
This is so dumb it hurts. As of today, the full impact of iOS 15 is now apparent for email marketers. Your email marketing open rates are now inflated. So what. Big deal. 6 months ago your newsletter had a 20% average open rate. Now, your email newsletter has an average open rate of 40%. This is completely related to Apple sending back false opens for all of its mail app users.
Use your open rate as 'directional' information. If you do an A/B test on a subject line and you see a higher open on A vs. B than great…A wins! It really is that simple.
To recap – Open Rates are now DIRECTIONAL data points and not ABSOLUTE. You can tell if you are on the right track with a marketing tactic but you don't know for sure who is opening which email. And that is fine.
NEW TIP FOR iOS 15 IMPACT:
Your marketing automation streams are screwed up. You can't send to openers vs. non-openers anymore. Sorry. I know that stinks.
BUT, there is something that is working to reach non-openers.
This is going to sound so rudimentary, but Apple is forcing us to get back to basics.
USE TIME TO REACH POTENTIAL NON-OPENERS:
Most people follow a daily routine.
Coffee at a certain time.
Brush our teeth at a certain time.
Maybe a daily walk at a certain time.
And, even though we look throughout the day we do a 'primary check' of our email at a certain time as well.
NEW TACTIC:
Sending Same Offer Related Email 2x's Over 2 Days at 2 Different Times Increases Overall Click-Through Rate:
Business: 34%
Consumer: 29%
Example: SEND TO FULL FILE:
Offer Email Send #1 – Delivered on Tuesday at 8:00am
Offer Email Send #2 – Delivered on Wednesday at 2:00pm
Why does this matter so much?
The irony of email marketing is you never get the majority of people to ever open any email you send. You would do the happy dance if 40% opened an offer related email.
By sending at 2 very different times you are catering to different routines that people have. Different people do things at different times.
You are reaching non-openers of the first email simply by changing when they see your message.
If you take this further the ideal plan is the following:
Example: SEND TO FULL FILE:
Offer Email Send #1 – Delivered on Tuesday at 8:00am
Offer Email Send #2 – Delivered on Wednesday at 2:00pm
Offer Email Last Chance Send #3 - Delivered on Thursday at 8:00am
Offer Email Last Chance Send #4 - Delivered on Friday at 2:00pm
Wow – THAT WAS SUPER BORING…Hope you made it through reading that. That was the shorter version. The first time I wrote that it was twice as long and incoherent. This was shorter and I actually think still incoherent. Oh well.
QUICK WINS:
Capitalization of First Word of Subject Line Increases Open Rates:
Business: 24%
Consumer: 28%
Example: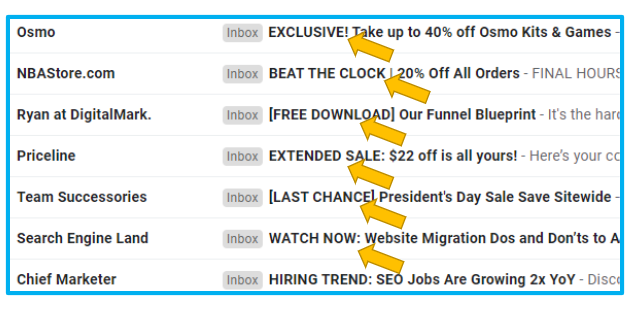 GURU Conference UPDATE: So excited to share this with you!!!!
QUICK BACKGROUND: My company announced that we are putting on a MASSIVE, 100% FREE, 2-DAY, EMAIL MARKETING CONFERENCE NOVEMBER 2-3 called GURU Conference.
Today is our official launch of registration being open!!!!!! (you may have already registered because I sent out an early reg to my peeps).
I NEED YOUR HELP!!!!! I posted on LinkedIn today about registration opening – it would be very cool if you could 'LIKE' and 'COMMENT' on the post to help spread the word. The conference will fill up because we have limited spots but getting the word out is huge. SO THANK YOU IN ADVANCE –
HERE IS LINK TO THE POST: Click Here
And email me back and let me know what you think of the video we used in the post. It might be the dumbest video ever made but it made our team laugh and that is all that matters.
Ok, back to the Scoop….
Since You Didn't Ask...
For any new readers of 'Scoop' this is where I share stuff that has nothing to do with anything that is actually helpful or useful...
WATCHING:
INVENTING ANNA (NETFLIX): Her accent makes me want to blow my nose. Not sure what that means.
THE BATMAN…(COMING OUT THIS WEEK) See Below:
Since the new 'The Batman' movie comes out this week I felt it was important to share my ranking of the actors who have played this iconic role….
JAY's RANKING OF ALL-TIME BATMANS From Best to Worst:
Ben Affleck – I know this is a horrible pick. TOWN and Good Will Hunting were great. So, this is more of a lifetime achievement award (minus the whole JLO thing and his personal life).
Will Arnett (Lego Batman) – This dude is funny. I put him in the Jason Bateman category – if he is in a movie it's gonna be good. Lego Batman was awesome. Don't @ me.
Christian Bale – He should be #1 on this list. I know that.
Adam West (Old School) – He started it all. The OG Batman.
Michael Keaton – Weird fact - Michael Keaton's real name is Michael Douglas. He bailed on that cause of the other Michael Douglas.
Val Kilmer – The movie Real Genius is one of my favorites. Val back in the day was the coolest.
George Clooney – I like his coffee commercials more than almost every movie he has ever been in.
Robert Pattinson – I WILL REPORT BACK ON THIS…
BTW – How are you? Shoot me a note and loop me in on how your marketing is going and how things are overall.
Best,
Jay
p.s. pass along to a friend if you think they may want to sign-up....www.JaySchwedelson.com
Are we connected on LinkedIn??? www.linkedin.com/in/schwedelson/
AND – PAST ISSUES OF SCOOP ARE NOW LIVE AT jayschwedelson.com/Scoops
If you do not want to receive these emails, please click here.